Does Your LinkedIn Stand Out? 6 LinkedIn Profile Tips for Medical Professionals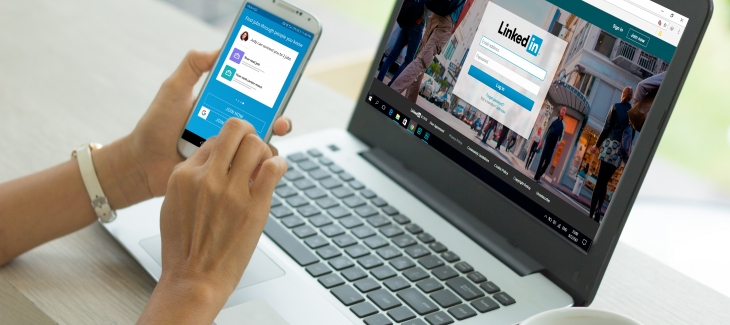 If you're looking to land a new position in the medical field, you need more than a polished CV. In today's online-centric world, having a LinkedIn profile is critical to your success.
LinkedIn provides a platform to highlight your skills and work experience. It allows you to display your expertise and network with medical professionals from all over the country and world.
Currently, LinkedIn has more than 260 million active monthly users. Of those individuals, more than 40% access the platform every day. And more than 87% of recruiters say they use LinkedIn to find job candidates.
If you don't already have a LinkedIn profile, now is the perfect time to sign up. But what can you do to ensure you stand out from all the competition? Below is a list of 6 LinkedIn profile tips for medical professionals.
1.) Upload a recent, professional profile picture. Your profile picture is one of the first things a potential employer or recruiter sees. And according to LinkedIn, profiles that have pictures get 21 times more views and nine times more connection requests. Make sure your photo is high-quality, recent, and professional.
If you don't have any current photos you feel comfortable uploading, partner with a photographer for a series of professional headshots. If you're still unsure where to begin, this article from Forbes provides some helpful tips and suggestions.
2.) Make sure your headline stands out. Your LinkedIn headline is a brief blurb that appears next to your name. It's 120 characters and presents an opportunity to describe what you do or the type of work you're looking for.
Try writing your headline like you would a social media post or news article. You want to pique people's interest, so they click on your name and visit your profile.
It's pretty easy to overthink, so if you're struggling to come up with a headline that aligns with your expertise, check out this article from The Muse.
3.) Fill out your profile summary. Your LinkedIn summary is a blank space toward the top of your profile. It has a 2,000-word limit where you can provide a brief overview of your professional experience, current goals, and skill set.
Use your profile summary to get creative. Don't be afraid to show off your personality or discuss ways you've handled work challenges in the past. Like a profile photo, a summary is one of the first things recruiters see.
This blog from LinkedIn provides a handful of profile summary examples sure to inspire.
4.) Highlight your work experience. When filling out your LinkedIn profile, make sure to include a full list of relevant titles and experience. You don't necessarily have to mention part-time jobs you worked during high school or college, but it's important to include the positions you held during residency, fellowships, and post-graduate training.
Don't just put the start and end dates either. Take the time to briefly explain your role in each position and how you contributed to the hospital, clinic, or health system. LinkedIn is unique in that it gives you more room to expand than a traditional CV or resume.
5.) List your certifications. Since entering the workforce, have you acquired any special certifications? If so, make sure to list these on your LinkedIn profile. Many healthcare positions are incredibly competitive. Shining a spotlight on your extra training or expertise can make you look more appealing and well-rounded.
The same rule applies if you volunteer or do community work. Many health care organizations feel a commitment to the communities they serve. If your values align with this mission, you'll be hard to pass up.
6.) Post and comment regularly. Once your LinkedIn profile is complete, make sure to use it regularly. Take the time to post relevant news articles, studies, or career-related information once or twice a week. Instead of just sharing a link, take the time to create a thoughtful post. Don't forget a call to action either. Ask a question or encourage readers to comment.
It's normal to feel nervous or apprehensive at first. Remember: what you post doesn't have to be perfect. Just try to engage your network and show that you're passionate about the work you do.
Aside from writing your posts, comment, and provide feedback to those in your network. If a colleague shares an article that you find interesting, drop them a line, and say "thank you." Or, if they ask a question, respond, and share your unique perspective. A little bit of interaction can help you stand out and drive more traffic to your profile. This is by no means a comprehensive list of LinkedIn tips, but we hope you find the information and insights helpful. If you are looking for a way to polish your LinkedIn account, AlliedHealthJobCafe can help you!