Categories
Recent Posts
Popular
Most Popular
4 Things The Avengers Can Teach You About Writing An Effective Resume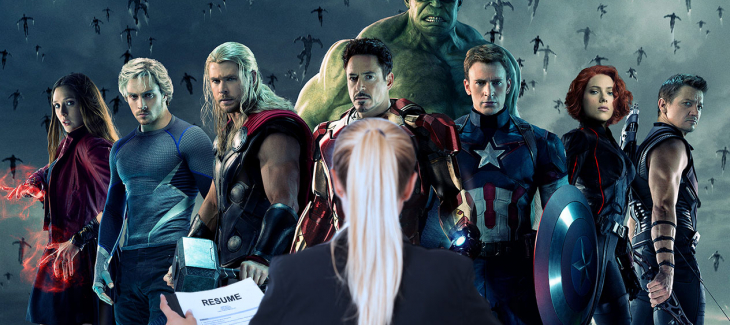 At $258 million, Avengers: Infinity War has earned the title for biggest North American film opening in history. The movie unites heroes and villains from 18 movies, the most of any Marvel movie to date.
Avengers is two and a half hours of storytelling and art, which is why it works. The editors left hours of extra footage and B-roll on the cutting room floor to move the story along; to prevent it from being boring and un-relatable.
You have to do the same for your resume.
Your career has so many interlocking events, people, and places that you can't possibly include every job you've ever held and everything you've ever accomplished on a resume.
Instead, your resume should be like your calling card: concise, relevant, and applicable.
A recent study out of the United Kingdom found that first-year college students only remember about 40 percent of what they learned in high school by the time they arrive on their campuses. Our brains efficiently get rid of whatever we learn in a day that isn't relevant to our daily lives.
Irrelevant information isn't helpful in our brains, and it isn't helpful in resumes.
In fact, if there's too much irrelevant information in your resume, the hiring manager may throw it out altogether.
More isn't better
Walt Disney was fanatical about the pace of a story.
There's an anecdote that tells of a 4-minute scene in Snow White that animators spent 240 hours creating. When it was finished, Disney didn't like the fact that it detracted from the story, and it distracted the audience, so he cut it.
As you write an effective resume for your dream job, you have to remove anything that detracts from the story as well as anything that distracts the audience.
You must focus on relevant information and get rid of anything that isn't pertinent to the job you're applying for. Furthermore, you have to figure out how to turn your past roles and accomplishments into relevant skills for the new position.
Begin by determining what skills the new hiring manager is seeking. Then, figure out how to morph your existing experience into bullets that will grab the hiring manager's attention.
Did you provide education to patients in a way that demanded leadership skills? Did you initiate a new educational priority in your company? If so, how can you relate those activities to your new job?
As you create your bullet points, use power words to set your resume apart in the mind of the hiring manager.
Use action verbs to energize your bullets. They make your resume easy to scan, and they make it easier for the hiring manager to envision you completing those tasks. (It's tough to imagine someone "being responsible" for something.)
Focus on outcomes instead of the task itself. Highlight your achievements versus highlighting your responsibilities.
Best is better
Ten years in the making, Avengers: Infinity War gathered a powerhouse cast and crew, and invested 10 years creating art.
The success of The Avengers stems largely from its talented crew, and each person's ability to do his job well. The movie succeeds because it concentrates the most capable people to work together in specific roles.
Like the movie, your career didn't just "happen."
Your previous jobs and experience are the culmination of all your skills and abilities, as well as the people you know. Previous jobs were the result of being in the right place at the right time and knowing the right people.
Your network is complicated and extensive, and finding your dream job will require you to enlist all the right people: not all the people. Just the right ones.
Landing a job is a mix of being in the right place at the right time and having the right contacts to point you in the right direction.
When writing an effective resume, make you include a concise statement of your career history with only relevant information included.
Don't include everything you've ever done. In fact, if you aren't able to relate your experience to the job you're applying for, it isn't worth including.
Furthermore, if you still aren't able to connect your past experience to your dream job after all of these considerations, start doing new things. Figure out tasks that relate to the job you're hoping to get and find ways to involve yourself in those things.
Create value for your company, and along the way, you'll create bullets for your resume.
In its first six days, Avengers: Infinity War earned more revenue than Justice League did in its entire global run. The crew created a powerhouse movie by keeping only the best content and appealing to its audience.
Your resume should do the same.