6 Easy Ways to Improve Your Professional Skills While Working Full Time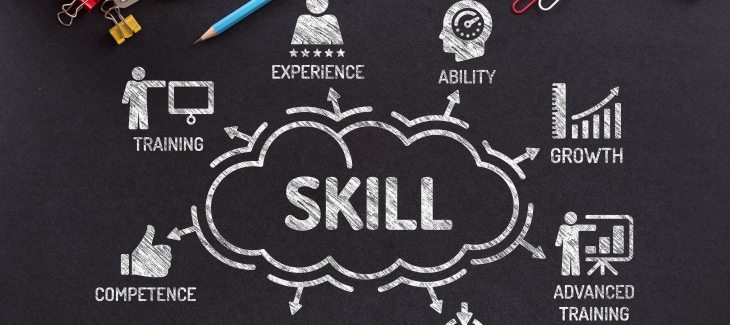 A healthcare career is both fun and rewarding. No two days are exactly alike, the work you do improves the lives of others, and there's relative job security.
Even with all these benefits, medical professionals are often busy. About one-fourth of physicians work between
61-80 hours a week
and a quarter of nurses work
50 hours a week
or more.
When you work more than 40 hours a week regularly, it can be difficult to find time to sharpen your professional skills. But that doesn't mean it's impossible. Though it may be tempting to put career growth on the back burner, it's important to invest in yourself and your future.
By setting aside time each month to learn and grow, you can enhance your industry knowledge. The more you know about a given profession, the easier it is to ask for a raise, find new job opportunities, and stand out from the competition.
To make the process a little easier, we've developed a list of 6 easy ways to hone your professional skills, even if you have very little free time. Let's dive in!
1. Read content relevant to your profession.
How much time do you spend each day reading the news or checking social media? It's great to stay informed and in touch, but these activities can drain your energy and even trigger feelings of anxiety.
Instead of doom scrolling the latest headlines right before bed, read articles from a relevant publication or listen to a podcast. Activities like these can help you stay well-informed of current developments, new technologies, and changes affecting your specific profession.
2. Take an online course during lunch.
Do you spend your lunch break texting or watching YouTube videos? What if you put that time toward professional growth instead? Thanks to platforms like
Coursera
,
OnlineMedEd
, and
FutureLearn
it's easier than ever to pick up new skills.
As long as you have an electronic device and internet or 4G connection, it's possible to go to class from almost anywhere. What's more, many of these platforms offer university-quality content at a fraction of the price of normal tuition.
3. Join a professional organization.
If you're too busy to regularly network or interact with colleagues on the job, consider joining a professional organization. Entities like the American Association for Respiratory Care (
AARC
) and the American Academy of PAs (
AAPA
) offer amazing opportunities for education and career growth. Many hold conferences throughout the year (both virtually and in-person) to encourage fellowship and professional knowledge.
Attending seminars and interacting with fellow members helps you gain new perspectives and on-the-job skills. Other benefits include access to mentorship programs; monthly newsletters with content related to your profession; and interactive events like mixers, question and answer sessions, and roundtable discussions.
4. Multi-task.
Do you enjoy working out at the gym? Are your weekends consumed with the yard or housework? Multi-task! Instead of listening to your favorite playlist, play an audiobook, podcast, or TED Talk that discusses tips or information relating to your profession. There are even apps that convert text articles into spoken word, allowing you to catch up on all those articles you've saved to read at some time in the future.
5. Create a study group with co-workers.
Do you have one or two colleagues who are just as passionate about learning? Consider starting a study group that meets once or twice a month. You don't want to spend all of your free time on work-related activities –– taking breaks is important––but collaborating with others can make the process of professional growth seem less tedious.
There are several ways to approach a study group. You can enroll in the same online class and work through each module together. Or you can all read the same book and discuss the insights you took away from each chapter. Discussing what you've learned with colleagues enables you to see their perspectives. You can also use the knowledge gained to push one another to be better.
6. Follow thought leaders on social media.
Who do you look up to professionally? If you don't already follow these individuals on social media platforms like Facebook, LinkedIn, or Twitter, take the time to do so now. Many thought leaders share valuable content daily. Often, they make recommendations for books and podcasts or promote upcoming events and seminars. Sometimes small bursts of inspiration are all you need to keep moving forward.
These are just a few of the ways you can enhance your professional knowledge while working a hectic schedule. Would you add anything to the list? Let us know by submitting a comment below!