Make the right hire while saving time and money. Cut your time to hire in half.
MedJobCafe Interviews combines the power of video interviews and targeted applicant screening assessments to help you identify the right hires quickly, saving time and money.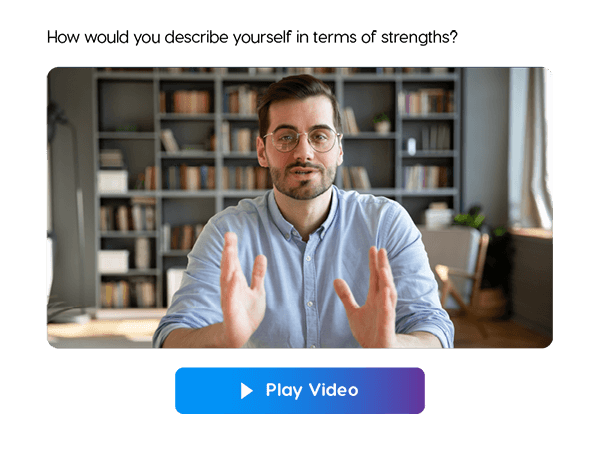 Learn More in Less Time
Impersonal phone screenings can eat up a lot of time. Say goodbye to scheduling headaches and voicemails and learn more about each candidate with On Demand Video Interviews and screening questions.
Set a Structured and Consistent Interview Process for Better Comparisons
Make sure each candidate can answer the same questions with the same time limits to optimize your ability to identify the strongest candidate.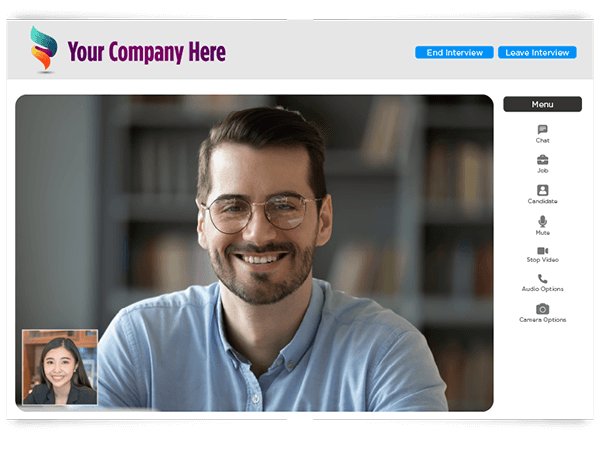 Create Automatic Short Lists
Use multiple choice questionnaires to filter out unqualified candidates so you invest time and effort into the best matches for your job.
Get a Real-Life Look at Candidates
Observe body language and nonverbal cues through video questions. Gain valuable insight into communication and presentation skills.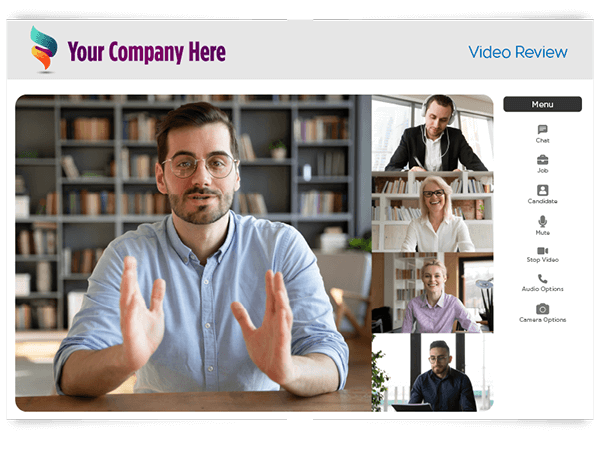 Collaborate with Hiring Managers to Move Candidates to the Next Round
Don't just tell Hiring Managers about the candidates – let them see for themselves. Share recorded video interviews and collaborate on who moves onto the next step.
Brand your interview page with your name and logo
Receive real-time notifications when candidates complete videos
Anonymize candidate contact information
Collect ratings and reviews from hiring managers without requiring a log in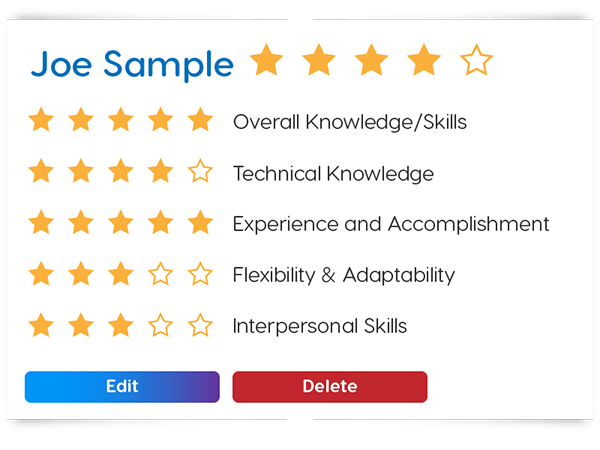 Other Benefits
Save time on preparation and setup with video interview templates and custom question libraries
Reduce your time-to-hire by setting deadlines and tracking interview responses
Use rating scales, tags and filters to keep your team on the same page about where candidates are in your pipeline
Make your candidates stand out to hiring managers by going beyond the traditional resume. Deliver completed assessments and video interviews to increase your candidate's visibility.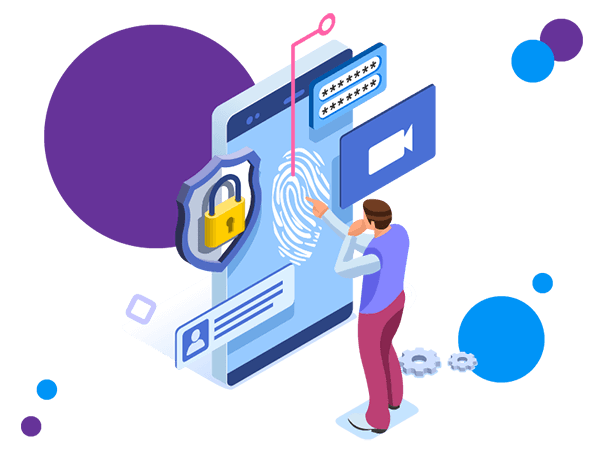 Data Security & Compliance
Ensure your company's online interviewing processes are secure.
Protecting interview attendee's information by requiring a login
Interview data and information is protected
Send password-protected sharing links to internal hiring team members
Features
---
Video Interviews
Schedule interviews to connect face-to-face with candidates. All interviews are recorded and saved in your account to review and rate at your convenience.
Interview Scheduling
Schedule interviews directly from the MedJobCafe Interviews platform and add to your calendar.
Candidate Screening
Create assessment templates and send unlimited invitations to speed up candidate screening.
Branding
Brand screening assessments and video interviews with your organization's name and logo.
Rate & Review
Quickly share your thoughts and comments on potential hires.
Various Response Types
Give candidates the option to respond to question via video, text, or audio.
Jobs
Post unlimited jobs to schedule live interviews or request candidate screening assessments.
Sharing
Collect feedback from hiring managers without requiring a log in.
Retry Limits
Set time limits for a candidate's video responses and limit the number of times a candidate can retry.
Teams
Organize your interview staff into teams to align with your internal hiring process
Interview Tagging
Use tags to organize your interviews.
White Label
Want something more custom? Contact us to get your custom domain set up to start video interviewing with your brand.
On Demand Interviews
Create unlimited on demand interview templates to send to candidates to request video responses.
Google Chrome Extension
Create, review, and share interviews from any website you're viewing.
API Integrations
Need to integrate a specific vendor into your system? We provide an API for your custom needs.
Video Library
Use our library of pre-recorded interview questions or record your own to include in on demand video interviews.
Job Board Integration
MedJobCafe Interviews is the first video interview platform to integrate with a job board. Invite candidates to interviews directly from the job board!
Export and Download
Export interviews into an excel sheet and download video interviews in bulk to backup data for compliance.
Live Chat
Chat with colleagues and candidates during live video interviews.
Dial-In Options
Can't get to your computer? Use your phone to call into an interview or meeting.
ATS Integrations
Connect your MedJobCafe Interviews account with one of our partner sites.
Analytics
Gain insights into your ROI and interview performance with advanced analytics
Dedicated Customer Support
Our customer support team is available 24/7 to answer any questions you have.
Screensharing
Need to show a candidate something? Share your screen or give candidates access to share their screen.
Interview Template Review
Let our team of experts help you create on demand interview templates to streamline your process.
Account Setup Assistance
We work with you to get your account set up and ready to start interviewing fast!