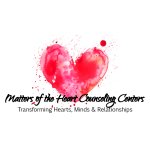 Matters of the Heart Counseling Centers, A Marriage & Family Therapy Corporation
Matters of the Heart Counseling Centers, A Marriage & Family Therapy Corporation
At Matters of the Heart, you have complete flexibility in when you see clients and how many clients you will see. There are no minimums.
Admin support is available to manage client bookings, insurance verification, credentialing, and billing. Paid benefits for those who see 20 clients per week: Healthcare, dental, vision, 401K, vacation & paid sick time.

These are our values:
•We exist to make a difference in the lives of the people we serve.
• We respect and honor where people come from and how they show up in the world.
• We embrace authenticity. We choose to be real, honest and allow our true selves to be seen.
• We embrace compassion, connection, and collaboration
• We offer a space that embraces diversity and inclusivity.
• We have a passion for learning, and we are committed to our personal and professional growth.
• We know that vulnerability will transform how we live, love, parent, and lead.
San Leandro

,

California

,

United States
San Leandro

,

California

,

United States
Company Information
Matters of the Heart Counseling Centers empowers people to embrace their mental wellness. We give you the tools to heal your spirit, the words to relieve your mind, and the inspiration to open your heart. We provide a collaborative, safe space that will allow you time to explore your concerns. Our psychotherapists are skilled at helping you create immediate, measurable, and lasting change that will impact how you live, love, and lead. We will equip you with the tools and strategies to create the life and relationships you desire.
Company History
Matters of the Heart was founded in June 2018 by Valerie Doyle, LMFT & PsyD (Dissertation phase. We are a privately held Corporation with 27 employees and growing. HQ in Northern California, four physical therapy offices. 95% of our sessions are Virtual. We are
primarily an Insurance based practice.